Circle Chiropractic Center - New Patient Center
Welcome to our new patient center at Circle Chiropractic Center. Here we have gathered together information that can assist our new patients in preparing for their first chiropractic appointment. Learn what to expect when you visit our Fairfax chiropractor!
Our Fairfax Chiropractic Office
To best serve you, we are open 8:30 a.m. to 6:00 p.m. on Monday and Wednesday, 2:00 p.m. to 6:00 p.m. on Thursday, 7:30 a.m. to 4:00 p.m. on Friday, and 9:00 a.m. to 12:30 p.m. on Saturday. You can make an appointment at any time by calling our office at (703) 385-2990 or completing the online appointment form on our website.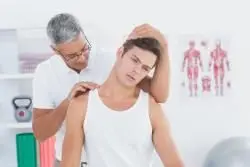 When you first enter our office, you will find yourself in our calming reception area. We aim to make every aspect of your visit soothing and affirming, so our front desk staff will greet you. If you have not filled out the paperwork at home, you may do it in our office.
When you meet Dr. Frey for the first time, he will take a health history and perform an examination. Once we have found your injuries, we will develop a customized care plan that treats your injuries at the root. As a patient, you'll move from relief care, where Dr. Frey will address your pain, to restorative or corrective care, and then finally to wellness care.
Chiropractic Services at Circle Chiropractic Center
We offer the following chiropractic services at Circle Chiropractic Center in Fairfax:
Chiropractic Adjustments - Our signature healing service, chiropractic adjustments realign the spine to allow the nervous system to function optimally. Find drug free relief from pain with our help.

Massage Therapy - Let our massage therapists soothe tense muscles and promote mind body relaxation. We can combine massage and chiropractic for faster healing.

Spinal Decompression - For low back pain, we offer spinal decompression. We use traction to lengthen the spine, removing pressure that puts you in chronic back pain.

Cold Laser Therapy - Another great form of non-invasive treatment that we offer is cold laser therapy. With the use of low level lasers, Dr. Frey is able to target pain trigger points in hopes of eliminating these acute or chronic forms of pain through repeated treatment.

Rehab / Exercises - Not only do we strive to help every patient at Circle Chiropractic Center, but we want to give them the tools to relieve pain at home, or in the office. Dr. Frey can help by assisting you with exercises and stretches that are aimed towards pain relief.

Physiological Therapeutics - Dr. Frey offers advanced physiological therapeutics services to complement our chiropractic care. We can introduce ultrasound, intersegmental traction, lumbar traction, or interferential electrical muscle stimulation into your treatment plan to promote faster healing.

Lifestyle and Nutrition Advice - We are here to support your full health and wellness goals with personalized advice, encouragement, and recommendations of supplements and healthy foods. We invite you to use us as a first line for health advice and lifestyle changes.
Payment Options
At Circle Chiropractic Center, we strive to make our care affordable for all. Not only are our rates reasonable, but we also accept most health insurance as well as workers compensation and auto accident claims. Call to learn more about our payment options and service rates.
Do you have any other questions for our Fairfax chiropractor? We want you to feel comfortable when you visit us, so we invite you to call us before your appointment at (703) 385-2990 to get all your questions answered.