Laser Therapy Offered by Fairfax Chiropractor
What is laser therapy?

Laser therapy is the use of specific wavelengths of light to create therapeutic effects. The resulting increase in cellular-level activity translates into improved healing time, pain reduction, increased circulation, and decreased swelling. Laser therapy has been widely used by doctors in Europe and Asia since the 1970's. The FDA first cleared lasers for use in the United States in 2002. Since then, laser therapy continues to grow in use and popularity.
Studies have shown that laser therapy can help with: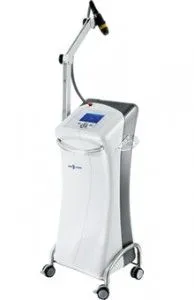 Back pain
Knee pain
Neuropathy
Bursitis
Arthritis
Sprain/strain
Shin splints
Tendonitis
... and more!
How does laser therapy treatment feel?
There is very little sensation felt during treatment. Most patients report feeling soothing warmth over the area, and a feeling of relief within the first few minutes of treatment.
How many treatments are needed?
Typical treatments consist of one session every three to four days, for two to four weeks, depending on the condition. Improvement could be felt after the first treatment, but it usually takes several treatments before results are felt.
How long is a typical treatment?
A typical treatment is 6-10 minutes, but will depend on the size of the treatment area, and the condition being treated.
What has the research shown?
Injuries heal faster, tissues are strengthened, blood flow improves, lymphatic drainage improves, offers relief to many pain conditions.
Are there risks or side effects?
Healthcare providers all over the world have used laser therapy for over twenty years and no side effects have been reported. An excellent alternative to oral medications and injections, laser therapy is non-invasive, non-abrasive to tissues, non-addictive, and essentially painless.
Can it be used with other forms of treatment?
Absolutely! It is often used with other treatment modalities, including massage and physical therapy, to accelerate healing and reduce pain. Wounds, especially in diabetic patients, respond dramatically well to the healing effects of laser therapy.
Testimonials
I was suffering with chronic back pain. Lumix Laser therapy was offered to me by my therapist. The results were wonderful and almost instant. I recommend this therapy to anyone suffering with pain.

Patient A, low back pain
I am a 57-year-old female with type II Diabetes. Because of my medical condition and poor circulation, an open wound on my foot was not healing. After exhausting all pharmaceutical options without any great results, I was told of the Lumix laser therapy option. At an incredible rate, my wound began to heal. This is a therapy that should be offered to patients as a first choice opportunity.

Patient C, diabetes