Fairfax Sports Injury Rehabilitation: Heal Faster and Reduce Risk for Re-Injury
Are you stuck on the sidelines because of an untreated sports injury that's slow to heal? Whether you're recovering from a repetitive motion injury like tennis elbow/golf elbow or need support healing following ACL surgery, our Fairfax rehabilitation program can help. At Circle Chiropractic Center, PC, our chiropractor Dr. Frey has substantial experience helping patients safely heal following sports injuries. Our rehabilitation program integrates chiropractic care with physiological therapeutics, corrective exercises, and sports massage for enhanced pain relief and a faster, healthier recovery following injury. Our chiropractic care and wellness center also includes a dedicated rehabilitation suite featuring the latest exercise equipment and an inversion table.
Fairfax Chiropractic Care, Active Release Therapy (ART) & Physiological Therapeutics for Comprehensive Sports Injury Rehabilitation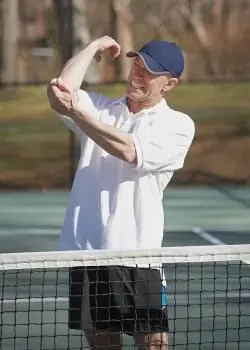 Our Fairfax sports injury chiropractor Dr. Frey is trained in the diagnosis and treatment of common musculoskeletal injuries. These injuries include repetitive motion injuries, back pain, neck pain, hip pain, elbow pain, shoulder pain, and knee pain. If you are a daily runner or have over-trained for an upcoming race, you may experience knee pain or shin splints. Torn rotator cuffs and shoulder dislocations are common for individuals who play tennis, golf, and baseball. For other patients, a lack of adequate training, faulty equipment, or even an accidental slip and fall on the playing field could be the cause for injury. Regardless of what caused your injury, our goal is to help you fully heal and then take the steps necessary to avoid re-injuring your body.
Circle Chiropractic Center offers comprehensive physiological therapeutics, including interferential electrical muscle stimulation, intersegmental traction, inversion disc decompression therapy, cervical traction, lumbar traction, and ultrasound. Treatments like ultrasound are designed to reduce inflammation and swelling, which helps the body heal faster following injury and experience less pain. Intersegmental traction, inversion disc decompression therapy, cervical traction, and lumbar traction are all beneficial techniques for alleviating disc compression following an injury. For example, if a herniated disc is compressing nearby nerves, this pain will persist as long as the compression continues. Traction gently creates space between the vertebra, alleviating pressure for drug-free pain relief.
Dr. Frey also provides Active Release Technique (A.R.T.) treatment for patients. This movement-based chiropractic technique follows a set protocol for repairing soft tissue and muscle damage, including scar tissue. ART is effective for restoring a more complete range of mobility to the body following a sports injury as well as providing enhanced pain relief. If you have shin splints, tennis elbow/golf elbow pain, knee pain or other pain from a soft tissue injury, you may be a good candidate for ART. Dr. Frey will discuss the benefits of ART during your diagnostic exam and whether it is a good addition to your Fairfax rehabilitation program.
Are you ready to get back in the game and live an active life again? For more information on the benefits of chiropractic care for sports injuries, schedule a diagnostic appointment with our chiropractor today.
Call Circle Chiropractic Center at (703) 385-2990.